Interface
Once you have installed Marketing Tools add-on you'll see an option in the Marketing menu called Marketing Tools for Multi-Vendor. Click there in order to activate and configure the add-on.
License validation
Before you can activate and access to the capabilities of Marketing Tools you need to validate your Unique License Key. You'll see a form like this: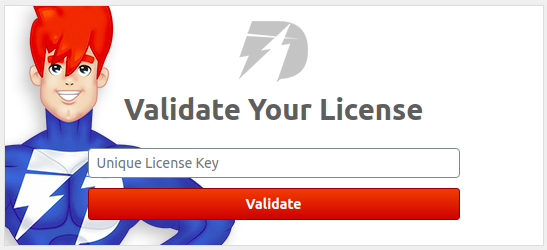 You should receive your Unique License Key by email when you purchase your first DevmanExtensions product. This license is the same for all our products and comes in the format 0000-0000-0000.
Main Interface
Once you have validated your license you'll access to the add-on management page, with a 6 tabs layout: General, Workspace, GDPR, Support, Marketplace and Changelog.

In the header you'll find the name of the add-on followed by the domain where you're using it. In the right are two buttons, one with a disk icon (save) and the other with shutdown icon (close session).
Save: Saves the Marketing Tools add-on configuration. Note that any change that change the behavior of the add-on in the storefront will take effect immediately.
Note that if you make any changes and leave the Marketing Tools management page without saving, you'll lost them.
Close session: Normally, you don't need to validate your license every time you access the add-on management page, that is, you will go directly to the General tab. But if for some reasons (privacy, security, etc) you don't want this behavior, you can close the add-on session.
Note that the next time you access the add-on management page after closing the session you'll be asked to validate your license.
Tabs
General
This is the main add-on configuration section. Here you can activate or deactivate it and enter the Google Tag Manager Container ID for the workspace want to use. Also you can control aspects of the Data Layer, like the tags you want to use and where to take their values.
Workspace
In order to integrate Google Tag Manager in your store you need to configure a workspace. This is a very specialized and time consuming task. In this tab you can generate a ready-to-work workspace in the matter of seconds. Once you received it by email (attached as a file named workspace.json) you can import it in the Google Tag Manager container that you plan to use in your store.
Note that we can't guarantee that our add-on behave the proper way if you use a workspace created or modified by other means, like manually or using other tools.
GDPR
If you're selling on EU markets then you need to compliment with the GDPR (General Data Protection Regulation) law. With our product you can make your store GDPR compliant with on click (literally). But if you want to expend 5 more minutes you can configure the cookies notification and badge exactly the way you want to look in order to integrate more in you storefront theme.
Support
This is the way you get in contact with our superb support service. Let us know what you need and you'll get a first response within 24 hours.
Note that this is the ONLY way to get in contact with our support service. Writing directly to a support team member's email will result in a none or very-delayed response.
Marketplace
Here you can view and control all the aspects of your license: details, dates, products, workspaces and domains. You can refer here to know if you still have access to our support or to download new releases, or if you need to extend your support time. Also you can increase your workspaces slots (defaults to 1 per license) or add a new domain where to use our product.
Note that this tab is in beta phase.
Changelog
Check the changes to our product throughout releases.