Taxonomies
In the previous section we see that when we load a preset, the google_product_category tag is left blank. In this section we'll learn why, and how to use this feature.

Google Taxonomy
Simply put, Google Taxonomy is the list of categories used by Google to help departmentalize products in a shopping feed. There are more than 6,000 categories.
For some categories, such as 'Media' and 'Apparel & Accessories', it is mandatory to include product categories within your data feed. There are other categories that do not need to use Google's product categories. Despite this, it is still highly recommended that you use the product categories for many reasons. These include:
Helping Google work out what search terms you should be shown for.

Helping your customers find you. You stand a better chance of your products being shown to potential users when their search terms match your product.

Relevancy improves. When your relevancy improves, you may see your cost-per-clicks improve. This also goes for click-through-rate. When a product is shown to multiple relevant searches, this will typically improve the CTR.
Google Marketing Tools for WooCommerce allows you to map your product categories with the Google Taxonomy ones.
Google Taxonomy Tab
You can manage your category mappings in the Google Taxonomy Tab of the Google Marketing Tools management page. The first time you access this section you'll see something like this:

As pictured, you can create a new category mapping by clicking the Add New Mapping button. The sections for configure your new mapping are shown. It's very easy.
New Mapping
Adding a new taxonomy mapping, that is, map every category of your products with the ones in Google Taxonomy, is as simple as filter the Google categories besides your product categories.

As you can see, Google Marketing Tools list all the categories in your store and you simply filter and select the Google category that fits your needs.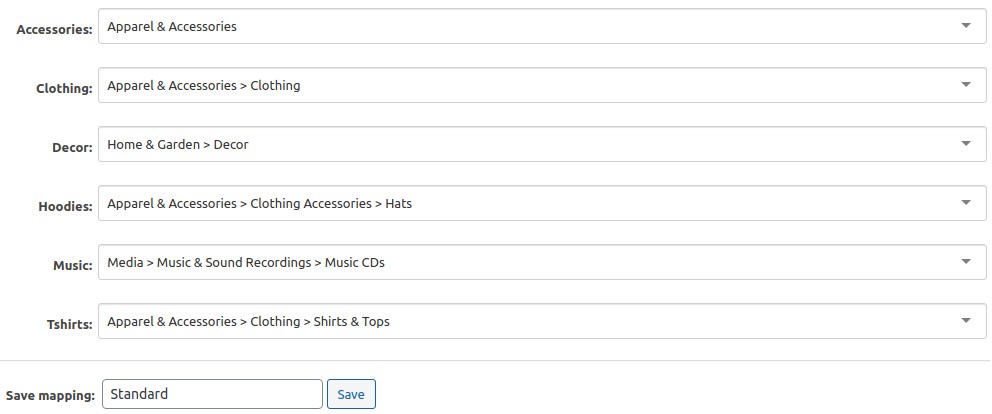 Then, give a name to your mapping, said Standard and click the Save button. You'll see your mapping in the table.

Using Taxonomies in your Feeds
Back to the Feeds, you can now use the new taxonomy mapping in the google_product_category tag. As you can see, it's available in the Taken from select under the Taxonomies optgroup.