Configuration
License validation
Once you have installed the Google Marketing Toos plugin you'll see an option with the same name in your Administration Menu. Click there in order to manage the plugins options. The first thing you'll see is the Validate Your License form: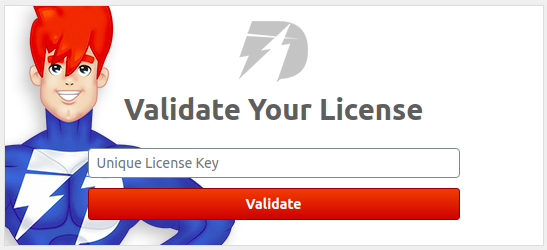 Note: You'll receive a Unique License Key (ULK) when you purchase your first DevmanExtensions product that's valid for all your purchased products. It comes in the 0000-0000-0000 format.
Interface
If everything goes OK with your ULK validation you'll see a 7 tabs layout: General, Workspace, Feeds, Google Taxonomy, Support, Marketplace and Changelog. Also, two general buttons: Save and Close.

Save button: Saves the Google Marketing Tools configuration. Also, any change that affects the behavior of the plugin will took effect inmediately. Note that if you leave the plugin management page without saving the changes, you'll lose all of them.
Close button: You don't need to validate your license every time you enter the plugin management page, that is, you'll go directly to the General Tab. But, if for some reason (privacy, security) you don't want this behavior, clicking this button will close the plugin session. Note that the next time you want to access the plugin management you'll need to re-enter your ULK.
General Tab
This is the main plugin configuration. Here you can activate or deactivate the plugin and configure your tag manager ID. Also you can control the behavior of the different tags and storefront DataLayer.
Workspace Tab
This were you generate your Google Tag Manager workspace json file. You can select and configure all the tags that we support and you want to include in your workspace. You'll receive your workspace.json file via email with some tips on how to use it.
This is the first thing you should do before activate the plugin.
Feeds Tab
This were you generate feeds for your products. We support a several merchants formats and give a very flexible system in a way that you can generate the exact feed that fit your needs.
Google Taxonomy Tab
This were you map all your product categories with the Google ones. You can have as many mappings as you need. Then, in the Feeds Tab you can assign the map that you want to the google_product_category tag.
Support Tab
Get in contact with us!
Marketplace Tab
This were you control all the aspects of your ULK: renovation, products that supports, upgrades, domains, purchases, etc. Our marketplace, but beautiful and simple.
Changelog Tab
Check the changes to our product throughout releases.